SiteShop Online Store for WordPress and HubSpot
SiteShop is the easiest to use eCommerce store.
Setting up an online store used to be a daunting task. SiteShop is the perfect easy solution for you. Our easy-to-use platform makes it simple to add and organize your products, customize your storefront, and accept payments by credit card, cash, banks, or even digital currency.
Plus, SiteShop can handle inventory so you always know where you're at for product availability.
SiteShop works on any website, regardless of platform. We've focussed on WordPress and Hubspot platforms because they are the most popular. If your website is on another platform, just let us know and we'll help you integrate it.
No credit card is required to set up an account and build out your store. In WordPress, we use a plugin. In other platforms, we use an embed code.
First, create an account. Then add products and design your store. When you are ready to begin accepting transactions, simply subscribe to one of our low-cost subscriptions based on the number of products you have in your store. They start at $15/mo. Get two months free when subscribing annually vs monthly.
SiteShop Product Management Area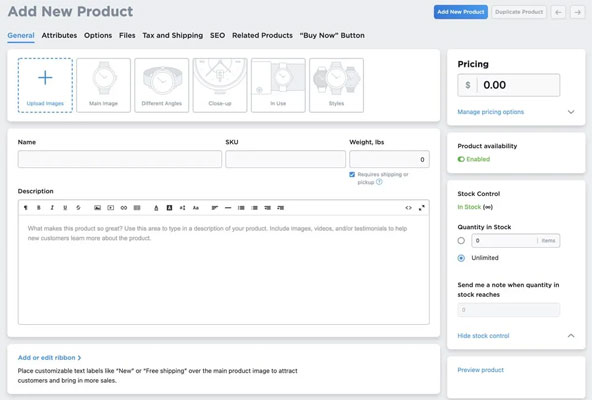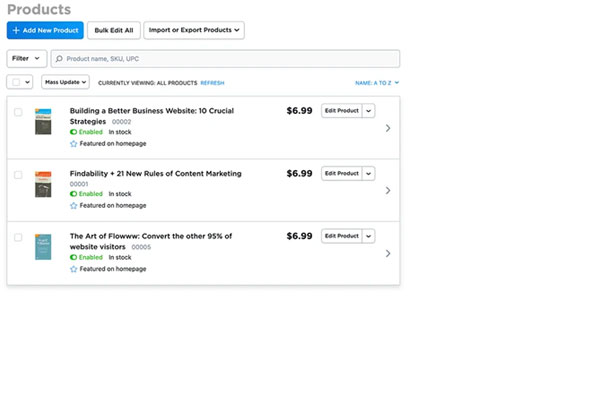 WordPress Block with Design and Layout Controls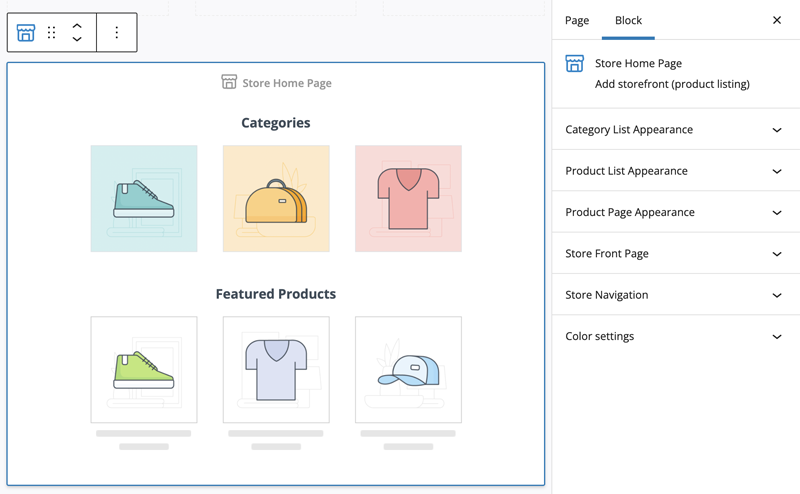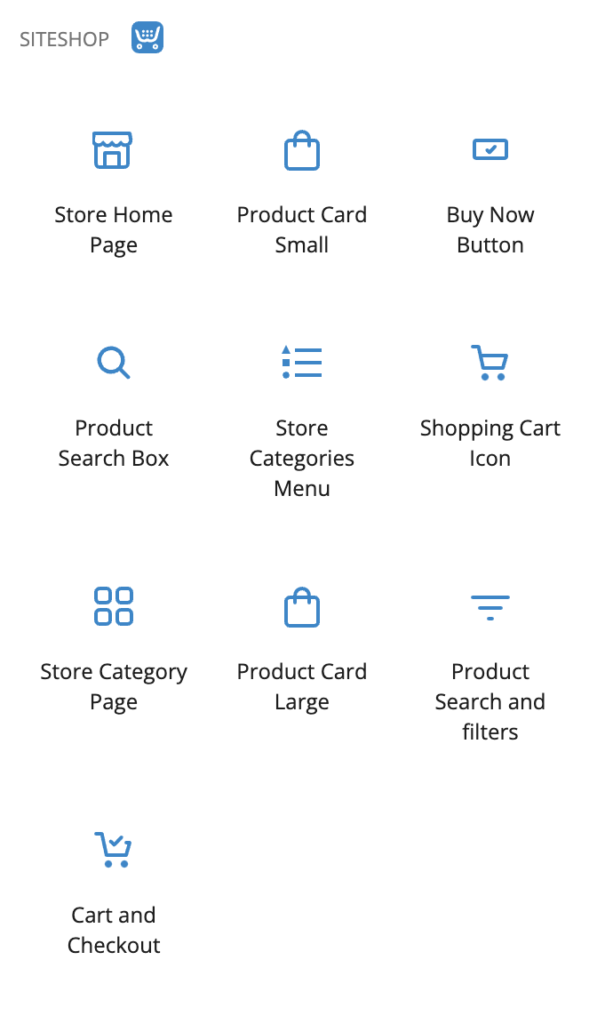 Manage Store Sales
Track and recover abandoned carts
Track inventory (including sync to Square Point of Sale system)
Provide Local Delivery, Curbside Pickup, accept Cash
Bulk-edit products
Import/export/replace all via CSV
Sell and protect digital products
Automatically handle taxes
Mobile App (iOS and Android)
Promote Your Items
Advertise across Google
Offer discounts and coupons
Reach visitors with Remarketing
Retain customers with automated emails
Engage customers with email newsletters
Connect Google Analytics
Promote and Sell on Facebook
Promote on any social media
Sell Everywhere
Sync with your Square POS
Connect to Clover or Square
Tag products on Instagram
Sell on Google Shopping
Sell on eBay
Embed Buttons and Products anywhere
Manage multiple stores
Features vary by plan.
SiteShop online stores seamlessly integrate with your website, social network, and popular marketplaces.
Organize products, customize your storefront, accept credit card payments, track and respond to orders – all with just a few clicks of a mouse.
SiteShop Gutenberg Blocks provides seamless integration and a consistent user experience within your WordPress website.
Design your online store with just a few clicks to begin selling on your Site, Facebook, Instagram, Google, Amazon, eBay, and more.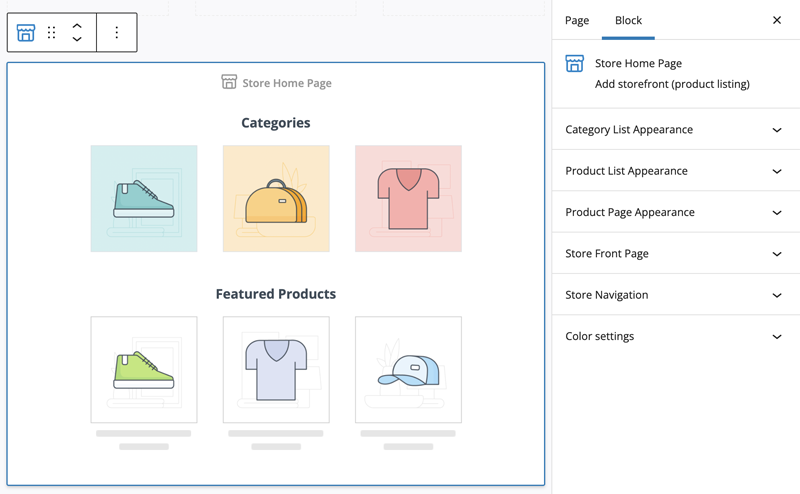 Sell on the Web, Facebook, Instagram, Amazon, and eBay
Rotate the mobile device for the full table view.
| Channels | SiteShop15 | SiteShop35 | SiteShop99 |
| --- | --- | --- | --- |
| Online store | | | |
| Facebook shop | | | |
| Instagram store | | | |
| Sell on Amazon | | | |
| Sell on eBay | | | |
Sell almost anywhere, seamlessly.
Promote with Facebook, Google, Pinterest, Snapchat, and Mailchimp
| Promote | SiteShop15 | SiteShop35 | SiteShop99 |
| --- | --- | --- | --- |
| Facebook advertising | | | |
| Google advertising | | | |
| Pinterest advertising | | | |
| Snapchat advertising | | | |
| Mailchimp | | | |
Advertise almost anywhere, easily.
Features of all SiteShop Plans
| Features | SiteShop15 | SiteShop35 | SiteShop99 |
| --- | --- | --- | --- |
| Digital goods | Max 25GB | Max 25GB | Max 25GB |
| Unlimited bandwidth | | | |
| Sell simultaneously on multiple sites | | | |
| Facebook pixel | | | |
| One-tap checkout with Apple Pay (via Stripe) | | | |
| GDPR compliance | | | |
| POS: Square, Clover(not in all countries) | | | |
| Gift cards | | | |
| Discount coupons | | | |
| Automated tax calculations | | | |
| Facebook Messenger chat | | | |
| Access to extensions | | | |
| Inventory tracking | | | |
| Advanced SEO tools | | | |
| Generate legally compliant tax invoices | | | |
| Switch to tax-inclusive prices | | | |
| Scheduled order pickup | | | |
| Abandoned cart emails | | | |
| Wholesale pricing groups | | | |
| Product filters | | | |
| Product variations | | | |
| Create orders | | | |
| Dimensional shipping rates | | | |
| Staff accounts | | 2 | 3+ |
| Multilingual Catalog | | | |
| Sell Recurring Subscriptions | | | |
SiteShop includes more features than the competitors.
Support Options per Plan
Support
SiteShop15
SiteShop35
SiteShop99
Chat/Email
Phone
Priority support
Web Meeting Support
Free customization
(on annual plans)
2 hrs
10 hrs
We're here with you.
| Platforms | SiteShop15 | SiteShop35 | SiteShop99 |
| --- | --- | --- | --- |
| WordPress CMS | | | |
| HubSpot CMS | | | |

No transaction fees are charged by SiteShop. Payment Gateways typically charge 2.9% + fees depending on which one you connect. Connect your payment gateway of choice, including Stripe, PayPal, Clover, and more (over 50 gateways supported, as well as cash).
3 SiteShop Plans to Suit your Online Store Needs
SiteShop15 Plan Features
This plan is great for stores with up to 100 products in their catalog. SiteShop15, and all our higher plans, also allow you to sell digital products: e-books, audio, video master classes, etc.
Here are more features available to you on the SiteShop15 plan:
Sell on Facebook and Instagram. Showcase your products to millions of potential customers and increase your sales.
Use advanced SEO tools. Submit a sitemap to Google and specify a meta name and description for each product in your catalogue to get your store better ranked in search results.
Set up discounts. Attract customers by offering various types of discounts: discount coupons, sales, or bulk discount pricing.
Create a free account now to add products and get your online store ready to launch.
SiteShop35 Plan Features
This SiteShop plan is for stores with up to 2500 products in their catalog. It contains all the features of the SiteShop15 plan plus gives you more tools to showcase your products:
Product filters. These display in the storefront to help customers easily view all the products in your store that match their search criteria: colour, size, etc.
Product variations. Selling products in different sizes, colours, or other options? Show what a product looks like with these different options and set the stock limit for each item with the help of product variations.
Multilingual catalogue. Let customers shop your store in their own language.
Additional SiteShop35 tools for managing your store:
Edit orders. Edit order details if a customer made a mistake when placing an order.
Track abandoned carts. Customers often view products and add them to their cart, but don't complete a purchase. An automatic recovery email will remind the shopper about their unfinished order.
Two staff accounts. You can invite two employees or partners to manage SiteShop with you: they will be able to view and edit your SiteShop admin settings (except for the billing page).
Create a free account now to add products and get your online store ready to launch.
SiteShop99 Plan Features
As the name says, there is no limit on the number of products that you can have in your catalog on the SiteShop99 plan. You get all the features of the lower plans and more:
An unlimited number of staff accounts. Give access to your SiteShop admin to all your employees involved in order processing or catalogue management.
12 hours of free customization service. (Available on the annual SiteShop99 plan.) If your store has any specific needs that are not covered by SiteShop's built-in features, the support team can develop an individualized solution just for you.
Create a free account now to add products and get your online store ready to launch.
Product Schema for SEO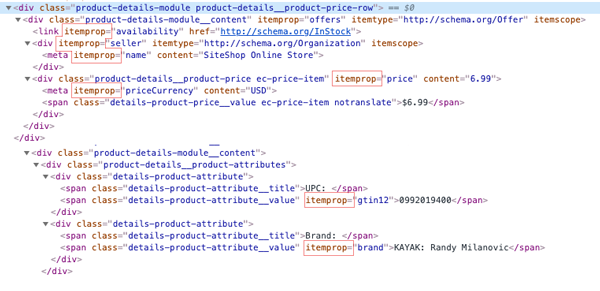 Don't lose a moment's sleep wondering if you've optimized your products for search engines. Because SiteShop automatically generates product structured data in JSON LD or Microdata.
WordPress via plugin: SiteShop generates structured data in JSON LD. You can view it in the source code of the product's page.
HubSpot and WordPress, etc via Embed: SiteShop generates structured data in Microdata format. You can view it on the product's page using your browser's developer tools (Inspect).
Tip: the more complete your product information, the more complete the schema.